"Ouch . . ." I was caught by the Lord with an "I don't want people getting in my way" attitude. Again . . . "Ouch . . . "
Hey Everyone,
Many of you know that I enjoy photography. I had the opportunity to take some pictures at a beautiful location in Peggy's Cove, near Halifax, Nova Scotia in Canada last summer . . . you know the "Anne of Green Gables" area.
I heard there was a cool lighthouse there so I took my good equipment. When I arrived, I was surprised that there were so many other people there as well. People tend to ruin beautiful location shots so I was a bit disappointed. But I tried to make the best of it anyway so I walked up pretty close to the lighthouse and tried to frame a shot without people in it.
Every time I thought I had a "people-free" opportunity someone else would walk into the picture. "Aaarg" . . . So I moved over a bit by actually straddling between two boulders to get the best photograph.
Waiting – waiting – waiting . . .
Again, every time one person would step out of view, someone else would stroll over toward the base of the lighthouse . . . and look up . . . and gaze . . . and ponder . . . double "Aaarg" . . .
Finally, after about 10 minutes of increasingly cramping leg muscles, there was about a two second window with not one person in my potentially beautiful photograph of a quaint Canadian lighthouse . . . I took the shot and here it is: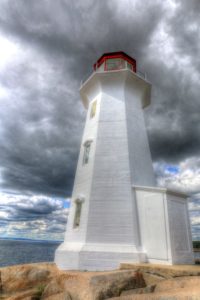 I took a quick look on my camera viewer and I felt that I could work with the photo. "Whew! Such dedication huh?" (Or "Eh?" for my "north of the border" friends)
Then I began walking up the rocks away from the lighthouse and saw another photo opportunity of the lighthouse from a distance. All the folks wandering around seemed to be assembled in an ascetically pleasing manner. So, I took that picture as well . . . and here it is: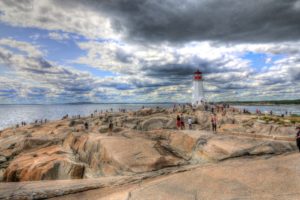 As I looked at this picture through the viewer I clearly heard the Lord speaking to me – whispering in my thoughts. You know, that "still small voice" you know is the voice of the Lord. He said:
"Which picture would Jesus rather be in?"
"Ouch . . ."
I was caught by the Lord with an "I don't want people getting in my way" attitude.
Again . . . "Ouch . . . "
That's not how Jesus responded to people.
He welcomed energetic little children.
He paid attention to the noisy bling man – and healed him.
He paused His "pushing through a crowd" in order to minister to a suffering woman.
He didn't send the crowds away as the disciples suggested – He fed them all.
In fact Jesus is so into people that He left His glory in heaven to live among us . . . to become one of us . . .
"Yes . . . Jesus is into you"
He loves you because He wants you to have the kind of life – real life – that He died for. Because YOU living the life He destined you for – will ultimately bring Him the glory and honor He deserves!
Don't forget this when you think you're all alone, when you feel like no one understands, when it appears that nothing seems to ever work out right.
Don't forget this when everything seems fantastic, wonderful, and all right.
Please don't forget that:
"God so loved the world (people) that He gave His one and only Son that whoever believes in Him should not perish, but have everlasting life.
Love you guys . . . Merry Christmas!
Steve
(Hey Friends: this post from December 22, 2017 was accidentally lost in cyberspace . . . and re-posted today.)